Evolución visual: trailer de By the Time It Gets Dark
El cine tailandés sigue cautivando en festivales. En esta ocasión encontramos a Anocha Suwichakornpong, que debutó en 2009 con Mundane History y pasará por el Festival de Locarno con By the Time It Gets Dark (Dao Khanong como título original).
En ella encontramos a Arak Amornsupasiri (Slice), Visra Vichit-Vadakan (que dirigió en 2013 Karaoke Girl), Inthira Charoenpura (In the Shadow of the Naga), Penpak Sirikul (13: Game of Death) y Apinya Sakuljaroensuk (Same Same But Different).
By the Time It Gets Dark cuenta las historias entrelazadas de varios personajes: un director de cine y su musa; una camarera que mantiene cambiar de trabajo; un actor y una actriz. Sus vidas están vagamente conectadas por hilos casi invisibles. La narración deja caer su piel varias vecesa lo largo de la película, para revelar una capa sobre otra de las complejidades que conforman nuestras vidas.
Veamos a continuación un primer teaser de By the Time It Gets Dark — Dao Khanong días antes de su premiere en la Sección Oficial de Locarno.
[act. 22/11/16] Tras su recorrido por festivales, incluidos Toronto y Mar del Plata, conocemos su trailer.
Trailer de By the Time It Gets Dark — Dao Khanong
Teaser trailer de By the Time It Gets Dark — Dao Khanong
Póster de By the Time It Gets Dark — Dao Khanong (click para ver entero)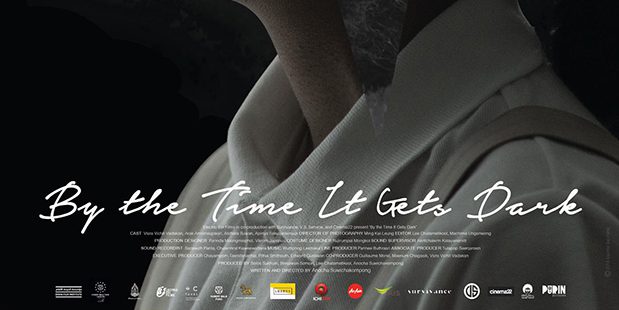 Redacción: Cristina Ejarque